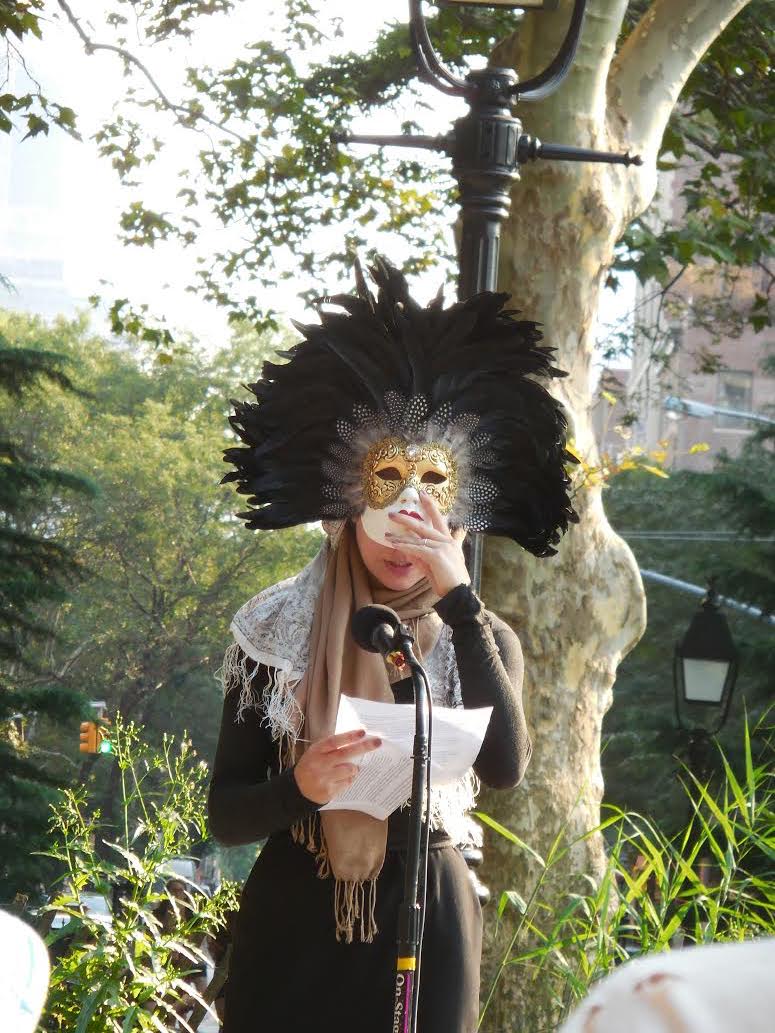 10/22/2018 Neighborhood, News
"Working" college students now includes prostitution to pay cost of attending NYU
I was an innocent man on September 1, 2015. That's when I attended the demonstration of Faculty and Students against NYU, the corporate university. I was innocent until a masked woman, who turned out to be an NYU student, stood up and spoke. Her opening words seemed to drift from the PA system to my mind. Was I really hearing what I thought I was hearing? She said, "By the time I started working as a Dominatrix, I had less than two weeks to make rent. I made the money in two days."
I took a step back and sized up the crowd. Did they hear that too? The crowd was silent as "Mandy," the woman in the Eyes Wide Shut mask, continued to speak. "It is an epidemic… No girl should have to sell herself to make that better life a reality." I wondered, why was there no one in the administration able to offer this junior student a scholarship?
I filmed the demonstration. When Mandy finished speaking, the crowd broke out in applause for the courage of this young lady. It was at that point I decided to do a film about this decadence and my (our) loss of innocence in the failing Empire of 21st century America. I watched "Mandy," the anonymous sex worker student, walk off into the blazing sun. I decided then that the film would be called The Lost Village.
I turned to my cameraperson, Liz, a young lady just out of college. I asked her if she had ever heard of prostitution on campus. She told me she was making a short film about it. How did I not know this was going on in colleges all over the country and the world? Perhaps, in our current mass media world, there is no time to cover something other than Trump? Instead, this story of student prostitution was spoken about in the bars and rathskellers of Greenwich Village and other towns. It was embedded in code on the internet. The code words were "dating," "escorts," "sugar daddies," and "sugar babies." Liz hooked me up with a spokesperson for the "Seeking Arrangements" dating site in Las Vegas which had been ranked number one for many years. Brook Urick, a nice young lady and the spokesperson for Seeking Arrangements, said to me "NYU has more sugar babies than any other school and it is partially because there is an outrageous enrollment fee. Sugar daddies are…gentlemen…willing to pass along their success." And sugar babies "are ambitious women who are in college." She says in the film that the site continues to gain in popularity nationally with 5 million members of whom 1.4 million are sugar babies in college. I tried very hard to find "Mandy." She has disappeared into the darkness of NYU's shadow. I did interview two former student sex workers for the film who were from other colleges. The woman sex worker requested anonymity. The male spoke in dark lighting. Their words clearly speak to a broken system that goes beyond the "Beltway" bickering we see every evening on cable news. It goes right to our hearts and souls. We have a spiritual cancer and it is life threatening.
Last evening, I went on the internet and found dozens of sites imitating Seeking Arrangements. My God, this is an epidemic. Why aren't we speaking about this decadence? What price tuition?
---
Editors note: The Lost Village will be playing at the Cinema Village in the heart of the Village from October 19th through October 25th. Tickets are on sale at the box office or on their website. Roger Paradiso is the Director and Producer of The Lost Village.