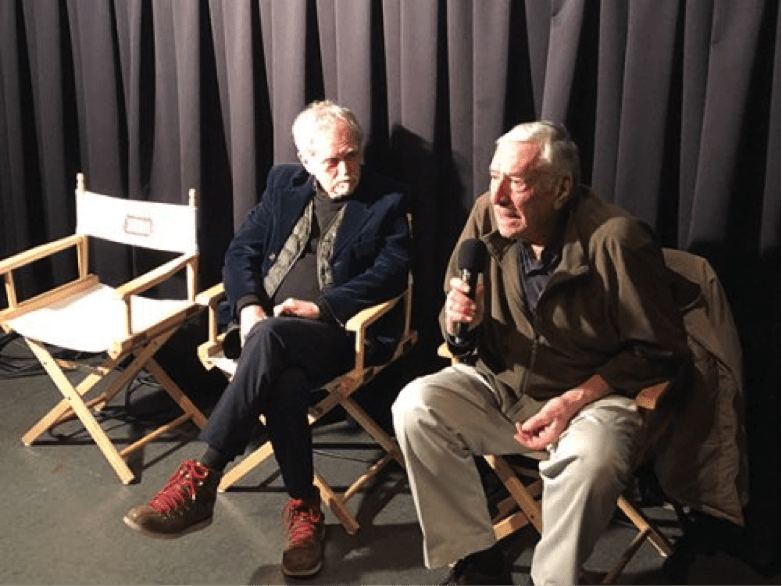 By Roger Paradiso
After a screening of my film The Lost Village at the Cinema Village in April of 2017, I walked to the front of the screen to begin a question and answer period with the audience. Just as I got stationed, a kind and gentle man jumped out of his seat, presumably to hit the road or restroom. He stared and pointed his finger at me, and said something I took as a compliment. But I couldn't possibility fit it all here in a 500 word article.
That man was George Capsis. I would soon liken him to many characters I remembered from a movie and play called The Front Page. The 1974 version of this nostalgic comedy, from when newspapers were the main source of our news, was directed by the great Billy Wilder. If you take the best parts of the two main characters played by Jack Lemmon and Walter Matthau, you will find the lovable character of George. By the way, did you know that George is also the "unofficial" Mayor of the West Village, making sure that his constituents, friends and neighbors don't get trampled on by the bad guys? On any day he could be fighting some of the West Village's greatest enemies. Whether it be "Diller's Island," "NYU's Prostitution 101," or "The Landlord of the Flies, Mr. Steven Croman," you know George is giving it his best effort supporting the interests of the West Village.

In the soon to be two years that I have known George, he has been most kind, not only in supporting my film when others have run the other way, but he has been a friend. Without George I would never have seen a séance where the dead announce their presence by moving a cross, or something, about in the air. Nor would I have experienced the elegance of Bach at St. Veronica's.
That's another thing about George: when he sees a cause he likes, he goes for it. It's not enough to publish the best monthly newspaper in the country, but he is also a concert promoter while trying to save a beautiful Church from gentrification. I have learned not to ask George how his day has gone. You always get the same answer, "Oh, I'm having a very bad day." And then he smiles and asks you to sit down and have a cup of coffee. One day I was visiting George and he said he had to go out on his bike to the bank (Where else?). George is always going to the bank which tells me one thing. He likes to ride his bike. My best remembrances are those days when we sat in his garden and ate Greek food. Especially his favorite, and you have to not only pronounce it correctly but you have to read it phonetically. Ready? "m o͞ o ˈ säkə", or you can say "m o͞ osä ˈ kä". I hope we have many more meals in the garden.
---
Roger Paradiso is the Director of the film The Lost Village and a writer and photographer.