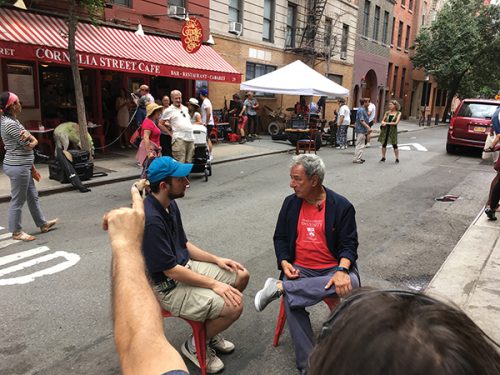 WEST VILLAGE LANDMARK CORNELIA STREET CAFE:
By Roger Paradiso
I remember the Fourth of July festival on Cornelia Street a few years back. Robin Hirsch of the Cornelia Street Café was throwing his annual birthday celebration for his landmark jazz/comedy/poetry club. (To this date as I write this in 2018, he is celebrating his 41st year in business. Number 42 would be coming up on July 4th, 2019.)
My son and I came in to film this celebration as well as to film George Capsis of the WestView News. This was and still is part of a series George and I wanted to do about the surviving cultural institutions and persons in Greenwich Village at the second decade of the 21st Century. When we finished filming George, we were heading to see Robin at his block party for his Café's birthday. It was a little hot and George said he might meet us. We left Charles Street and walked a few blocks to Cornelia. It was a bit warm but a pleasant Fourth of July day in the Village. As we turned the corner, we heard the great David Amram and his band playing. We found Robin and set up an interview with my son as the interviewer. He and Robin set up about 30 feet south of the band, so we could hear each other and see the whole festival. People were coming up to Robin to congratulate him and there was a nice turnout at the Café.
What a beautiful day. The only cloud in that day was Robin admitting his fear about his upcoming new lease at year's end. In 21st Century America there has been an amendment to the phrase Benjamin Franklin made famous about Death and Taxes. "In this world there is nothing more certain than Death, Taxes and High Rent."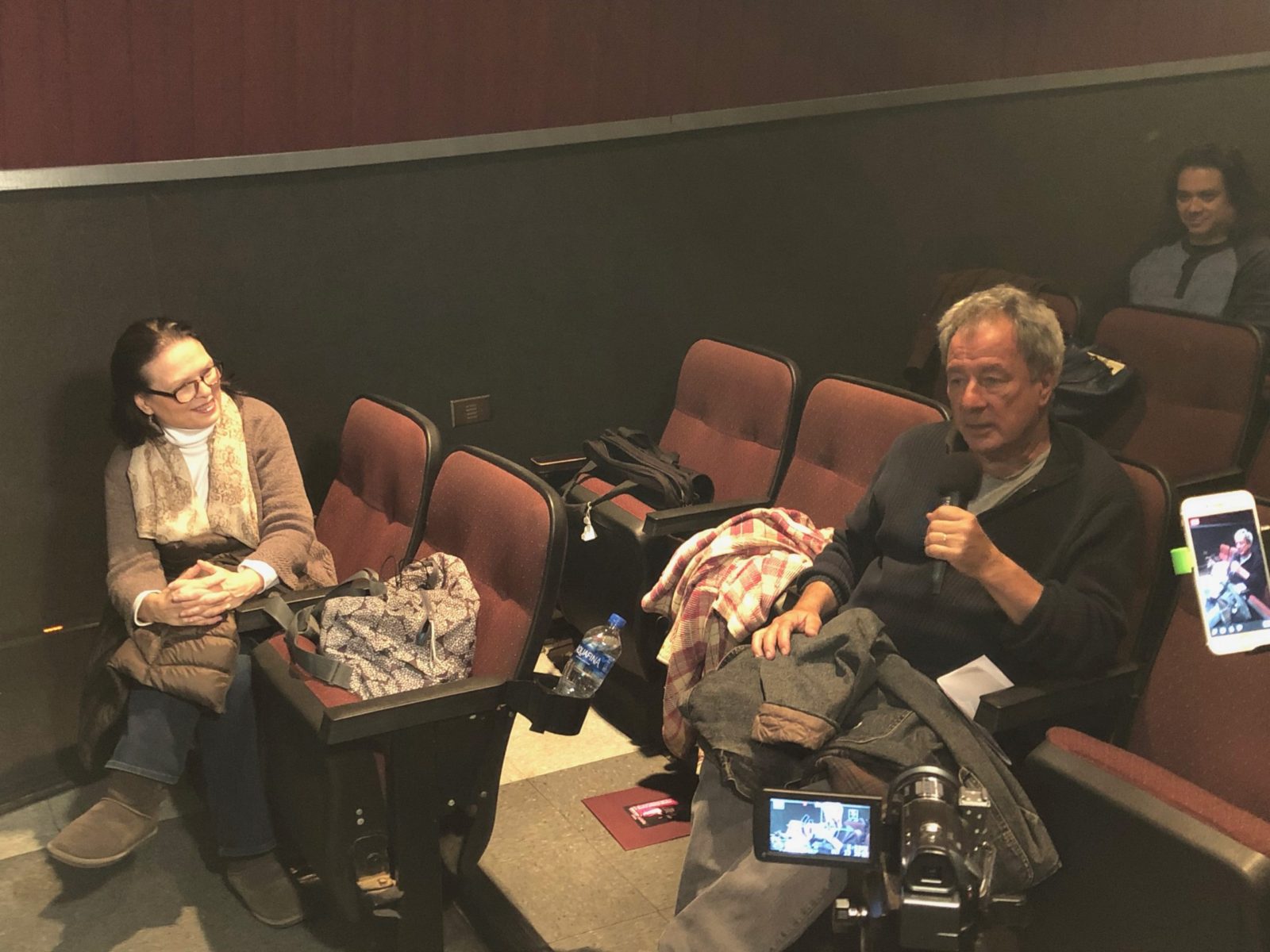 Now we jump to late October of this year and The Lost Village is playing at the Cinema Village and we have what I think is a record eight panels in six days after the film screens. In the middle of the run, I get a call from Robin and he asks to come to the show and speak. I tell him to come by to watch the film and join the panel. After the lights come up, I introduce Robin and he takes the mike and says, "we celebrated our 41st birthday last July and I am now in a position where I don't think it's possible to reach 42." The crowd is silent, and Robin is emotional.
He continued: "On our 10th Anniversary Mayor Koch named us a culinary as well as a cultural landmark…Young artists starting out and very distinguished artists found a home here." As he was handing the mike back, he said: "Cornelia Street is likely to go the way of all flesh." Panelists tried to cheer him up and give him support.
It is now a few days past Christmas and I just got off the phone with Robin who confirmed that as of January 2, 2019 the Cornelia Street Café will be closed. There are no miracles on Cornelia Street in this digital age where the buck stops with the Landlords. There are no more roses growing in Spanish Harlem as Ben E. King sang in a gentler age. Instead we will have a black hole on that charming Village street. Let us pray for the Cornelia Street Café and remember all the joy it brought to Cornelia Street in days gone by.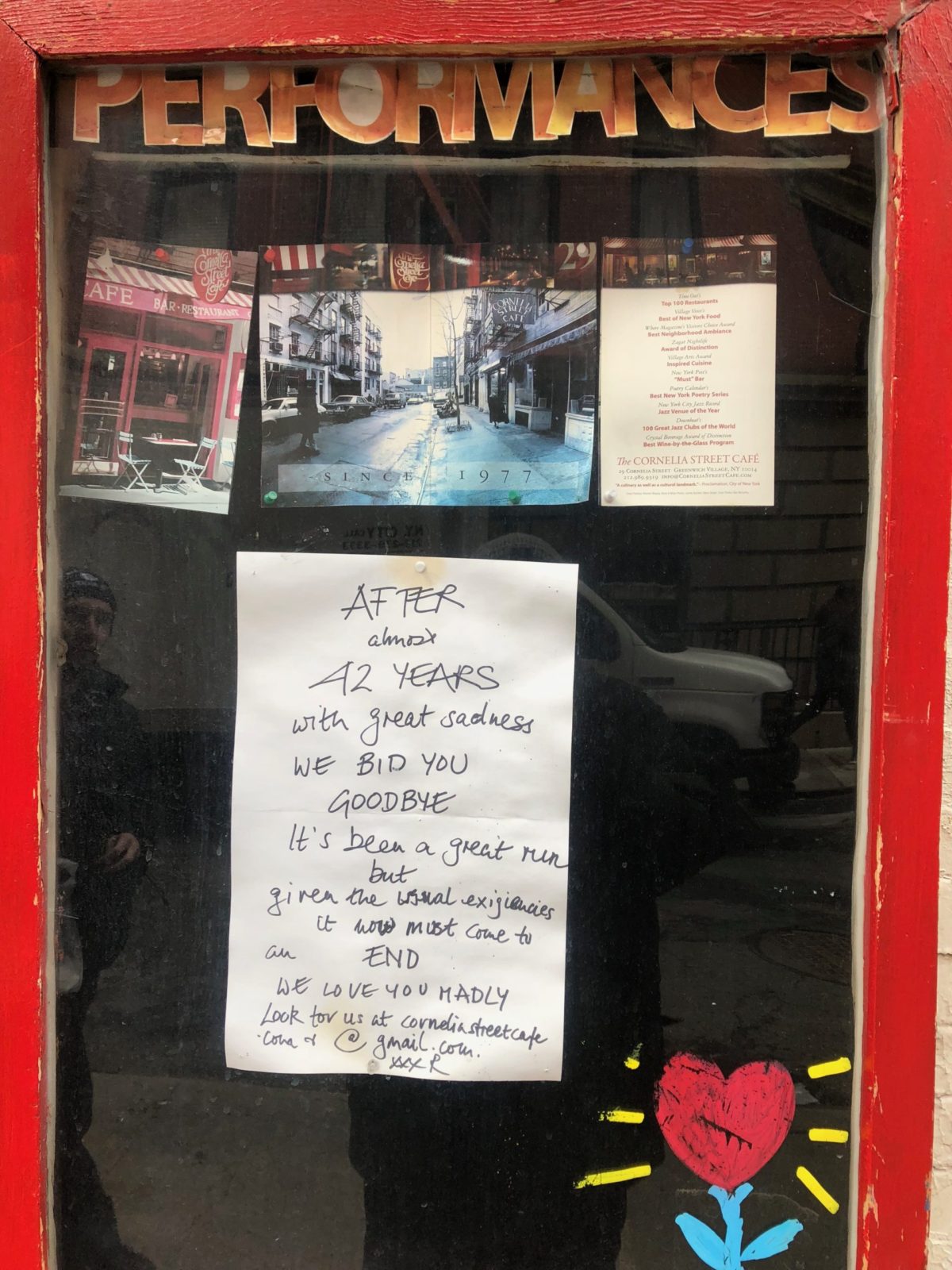 ---
On January 15th, The Lost Village will be available on DVD at Unoppressive Books, 34 Carmine Street and Mercer Street Books, 206 Mercer Street.