03/09/2019 Neighborhood, People
DAVID AMRAM HAS A LOVE AFFAIR WITH THE VILLAGE AND THE VILLAGE LOVES HIM.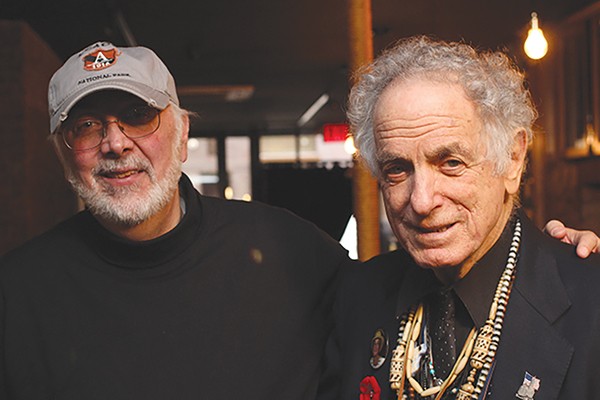 By Roger Paradiso
I first met David Amram at the Half Pint Bar on West Third and Sullivan. It was the winter of 2012. He was nice enough to come down and be interviewed by me for a documentary film. As soon as we met we started talking and talking, and the conversation hasn't stopped to this very day. It was like we had known each other for fifty years.
He was wearing these beads, like Native American beads, but it didn't bother me at all. I never asked him about them. Since meeting David, I often think of him as something like an older brother. He's a renaissance man, having written several movie scores for films like The Manchurian Candidate (the original), and Splendor in the Grass. How many people do you know who were picked by Leonard Bernstein to be the first composer in residence at Lincoln Center in 1966? Did you know he played in bands with Dizzy Gillespie, Charles Mingus, Sonny Rollins and many other giants of jazz? Or that he's written three books?
David is now busy writing three new classical compositions in his spare time. It's not often you get to meet someone who has done so much in a variety of art forms, and has done it so well. He also has a love affair with the Village and the Village loves him. He was the first artist in residence at The Village Trip Festival last fall.
"I first came to the Village as a teenager in the nineteen-forties. I was just thrilled because I had never seen a place with that unique feeling. All those amazing people and the crazy streets and the warmth and the everchanging spontaneity that occurred every time you walked down the streets…"
"It was like an education just being there…And all these years later, now eighty-eight years later, I still feel the same way." What does he think of the changes in the Village?
"Of course, it's changed; everything changes. But there's a thing with the spirit that's been there from the eighteenth century on, that somehow has survived and always will survive…So our gig, from when it was affordable and an oasis from the concrete jungle, is to celebrate that spirit…We try to bring the Village with us wherever we go."
I finally got the scoop on those beads he wears whenever he leaves the house. "Those beads are all gifts from [Native] people from around the world…They remind me of how lucky I was being in those places with those people…It's a kind of mojo and protection."
David, thank you for composing original music for my two films shot in the Village. "Roger, you can call me anytime especially if I am still alive. That's a quote from Sasha Schneider." David is also writing another book in his spare time. It's called David Amram, The Next 80 Years. I can't wait to read it.
As David said in closing, "The Village will be my home the rest of my life even though I sleep somewhere else."