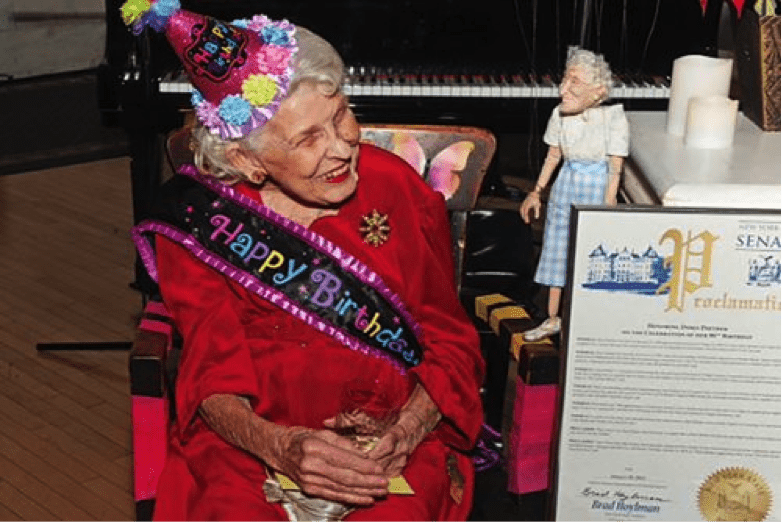 Starting October 19th with THE LOST VILLAGE premiere at the legendary Cinema Village Theaters, we did community panel discussions after each screening. Sponsored by WestView News, we ended up doing 8 panels in that first week. But none was more memorable than the night Doris Deither came to visit. She has been called "The Grande Dame of New York City Land Use" by Observer.com for her work in preserving the Village.
It was a cold October night when Abigail Hastings, the Judson Memorial Church archivist, pulled up in a car with Doris. I saw a diminutive lady sitting in the front seat. That was Doris. When we opened the door she grabbed our helping hands and started making her way down 12th Street towards the theater. When we entered the lobby the staff led by Adriel and Emily helped her down the stairs and into the bohemian basement theater.
When the film was over and the spotlight was turned on she really came alive. You could feel her spirit. It should be bottled and sold. Maybe we would be winning the fight against the current siege of Greenwich Village.
When Doris spoke you could sense the audience focus on every word:"When we started working with Save the Village many years ago… we had a very novel system… We divided the Village up into sections and each one of us had our sections. I had the Central Village. Jane Jacobs had the West Village. And Verna Small had parts of the South Village. The way we worked it was if something was going to be happening in one area we would notify all the other people and they would bring all their people to that area. So we were not one small little group fighting. It was a whole 5 or 6 groups fighting all at the same time… I think we should start thinking about doing that again."
As Brian Pape wrote in WestView News a few years back.. "…in 1959, Doris lobbied against Robert Moses' plan to end free Shakespeare in the Park performances. She had previously joined Jane Jacobs, Ruth Wittenberg and Shirley Hayes to fight Moses' efforts to run Fifth Avenue through the park. Recently, Doris heard about a proposal that would ban live music and entertainment from her beloved park! She went right to work to rally friends, put out notices, attend hearings, and get the votes to squash this rotten idea. And she is ready to do it again!"
Doris celebrated her 90th birthday with friends at Judson Memorial Church this past January 10th. Back in 1958 Doris married Jack Deither in Judson Memorial Church. She still lives in the Village apartment she shared with her husband. How many people stay in one place nowadays for 51 years? Not many, but then Doris is a special person. She's a fighter who has resisted any landlord from moving her out of her home.