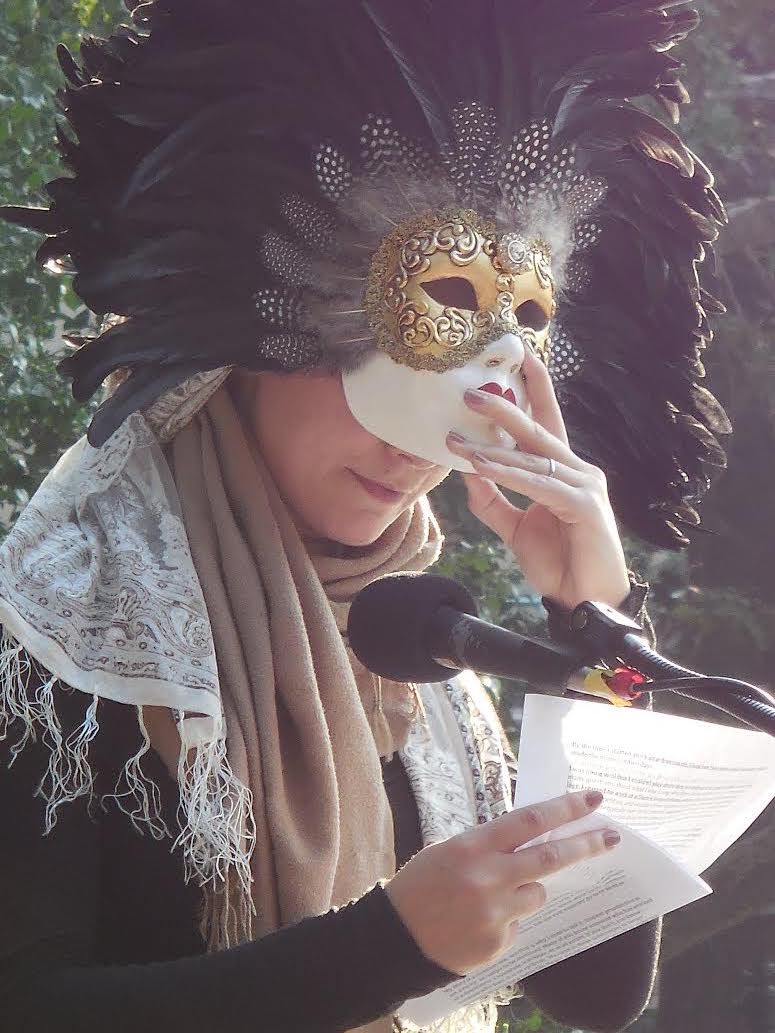 By Carol Yost
The Lost Village is our very own Greenwich Village: Roger Paradiso's film chronicles how greed and lust for power have transformed the original, unique character of the Village.

(NOTE: This is a revised review after last year's screening. Now the film is in distribution, and I saw it for the second time at Cinema Village. More personal observations about what was happening to Greenwich Village also came to mind.)

A man with the wonderfully cinematic name of Roger Paradiso has made an award-winning film called The Lost Village. It played at Cinema Village (22 East 12th Street) for a week in October and ran there again from November 9th through the 15th at 11:00 AM. Most of the earlier screenings at this theater were followed by panel discussions, which you can see on video at the film's Facebook page. The Saturday and Sunday (November 10-11) screenings also had panel discussions.

The Lost Village is our very own Greenwich Village, or what longtime Village resident Barbara Ruether has called "the former Greenwich Village." Due to untrammeled greed and lust for power, the original, unique character of the Village has transformed into drugstore chains, Chase banks, fancy clothing stores, and pay-more-for-less mega-box stores, which replace mom-and-pop shops. As for housing, we'd have many more obscenely unaffordable concrete-and-glass structures that would lose themselves in the clouds if developers could have their way. Even most of the charming old structures that remain now demand colossal rents, and many treasured old churches, synagogues and schools are now repurposed, crammed with expensive apartments behind their landmarked facades. Look up at some of these buildings after sundown and see that their apartments are dark, likely possessed as investments to be flipped over and over again for profit, or occasional residences, by people who don't even maintain their homes anywhere near New York City—and in fact may be overseas.

The synopsis for The Lost Village mentions rising rents for housing and business, with more than 1,000 small businesses lost in New York City per month. That is hard to comprehend.

The loss of St. Vincent's Hospital, mentioned in the film by George Capsis, was, to me, a big factor, or at least a harbinger, in the change. More than 30 small businesses closed after the hospital foundered. You kept getting the feeling that your neighborhood wasn't yours, that it wasn't about you or for you. It was being seized and controlled by other people. In an online video I once saw, Bill Rudin, the developer who bought the St. Vincent's campus for $260 million—a vast sum to us but really pennies on the dollar considering what he could have paid—spoke cheerfully about how gratified he was to have "work[ed] with the community" on his tower project. But he fools no one. The community spoke against him over and over. We lost that one, but we're not out, and we won't be silent.

Then we have NYU, which is not the only culprit, but is a big one. It is covered extensively in the film. Students are hardly able to afford food or housing. Several students who have gone into prostitution to pay their tuition speak anonymously in the film. Yes, you got that right, and it is a shocker. The $72,900 annual tuition is outrageous, but we're told that stratospheric tuition increases occur at other universities too. They are bound to keep increasing.

NYU's sins don't stop there. The university, with a board of directors filled with real estate interests (and no faculty members or students), is planning a decades-long, enormously expensive project to eat up practically all the green spaces—parks and community gardens—in the Village in order to build big, ugly towers, turning most of the Village into a gigantic NYU campus. Existing buildings of one story, or four or five stories, will be completely dwarfed by them, and who ever heard of sunlight and air? It's a plan loved only by the Mayor and the NYU board of directors, and almost universally hated by the NYU community and the Villagers.

One of the best parts of the movie is the series of clips from a promotional film featuring the former NYU President John Sexton. With his oversized grin, he tells you how wonderful it is for people to attend his prestigious university. Alongside this, in another short film, a young woman wearing ghoulish lipstick tells how nice it is for young women and men to be sugar babies. Both are intercut with short clips of people telling how things really are. This is both funny and shocking.

You also have the effect of NYU's plan on the community. I'm sure the original, projected completion date of 2031 is not realistic now. As time passes, I keep hoping that parts of the original plan will drop away as circumstances and financing change, although people are already feeling the loss of the Coles gym. Every treasured spot of ivy and flower will not escape NYU's clutches unless we find a way to act decisively. That beautiful Japanese garden between the rows of NYU housing is threatened, along with the Picasso sculpture on the green space among the residential towers just off West Houston Street. That's just some of what we face, as recent court decisions have gone against the advocates fighting to save the Village.

Mr. Paradiso makes clear that what is happening in the Village is related to what's going on elsewhere. The film presents commentary by a historian who compares the situation to ancient Greece and Rome. An economist points out that the reckless development with outrageous rents and prices is self-defeating because people with stagnant wages can't afford what's being produced. An NYU professor reports on what's going on with NYU generally. We see interviews with Village residents, including WestView's Publisher George Capsis speaking with deep emotion about the hospital, and Nelly Godfrey, who was unable to keep her Christopher Street restaurant Lima's Taste. We also see Villager Nicky Perry and her husband Sean Kavanaugh-Downsett, struggling to maintain their tiny trio of a restaurant and two adjacent small businesses. Commercial rents are out of control, and a proposed bill to limit them is being hotly debated.

Change in any community is inevitable, and can be good, but it should still feel like a "neighborhood," one that residents can see as theirs. If you want to order a coffee and sandwich brought to you, do you think some billionaire is going to ride up on a bicycle and deliver it? Where are the people who provide essential services and goods going to live and work? Where are the artists? And where is the place many people simply saw as home? We can't get the old Village back, but to have a real community, we must fight back together against the super-powers who are taking over to give us, not a community, but a sterile corporate world. We can have home and beauty yet.

This documentary, made on a shoestring, really says it all.
Do see the film when you can!

Reviewed at Cinema Village, New York, Oct. 24, 2018.
MPAA Rating: Not rated. Running time: 89 MIN.
PRODUCTION: A First Run Features release.
Producer: Roger Paradiso.
CREW: Director: Roger Paradiso. Camera (color, widescreen): Pedro Hernandez. Editors: David Falconer, Roger Paradiso. Music: Robert Temple Jr., David Amram, Laura Warfield.
WITH: Robert Ascherman, Brad Burgess, Daria Butler, George Capsis, Ziad Dallal, Anthony Gronowicz, Michael Hudson, Mark Crispin Miller, James Drougas, Sean Kavanaugh-Downsett, Chris Nickell, Steven Null, Robert Pearl, Nicola Perry, Sharon Woolums.