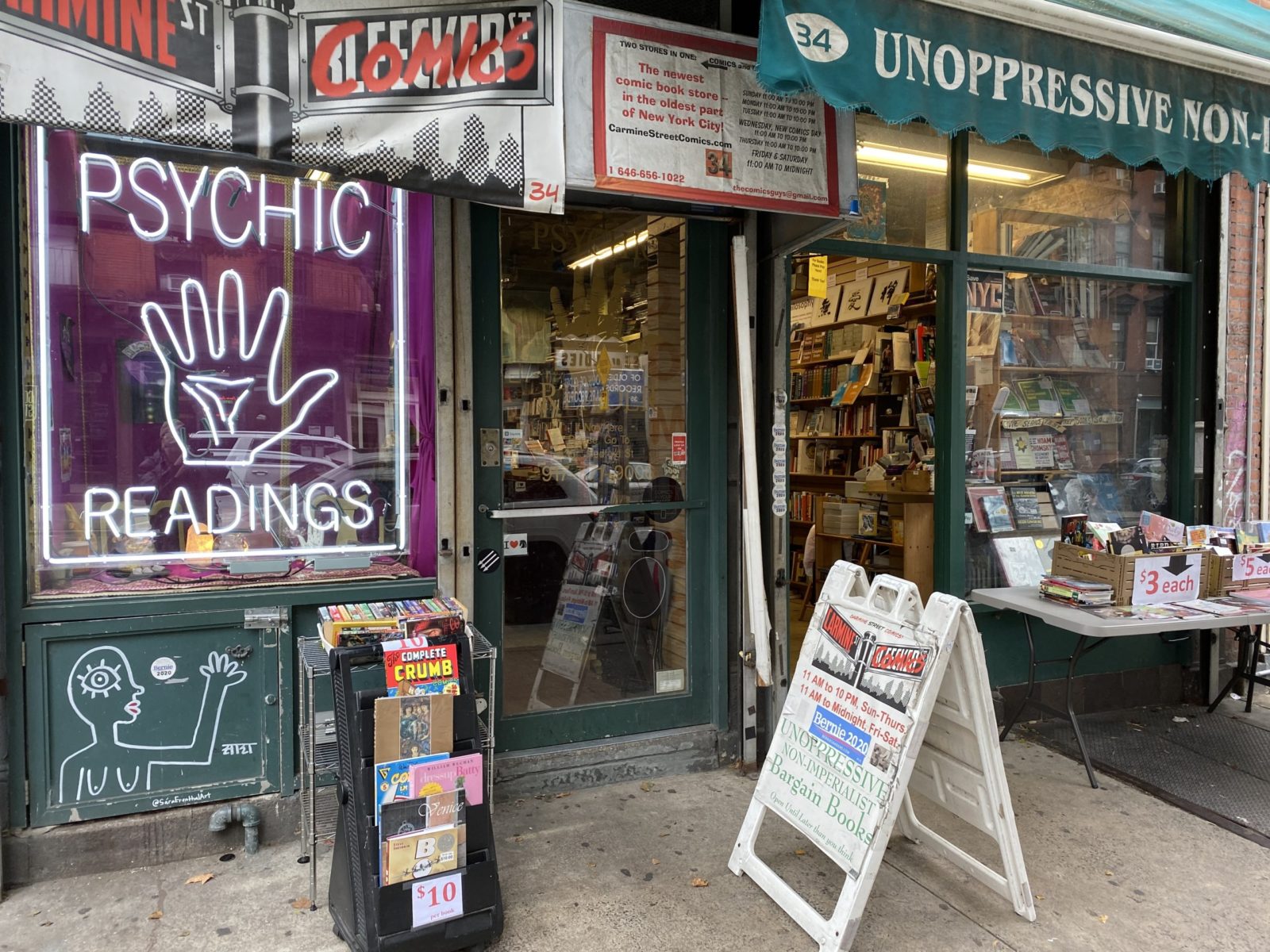 By Carol Yost
THE LOST VILLAGE IS OUR VERY OWN GREENWICH VILLAGE: Roger Paradiso's film chronicles how greed and lust for power have transformed the original, unique character of the Village.
A man with the wonderfully cinematic name of Roger Paradiso has made an award-winning film called The Lost Village. Right now, it's still not in distribution, meaning that you can see it only at screenings. Father Ed Chinery at The Church of the Ascension in the Village, who regularly presents stunning documentaries guaranteed to outrage and entertain, has presented The Lost Village twice.
The lost village is our very own Greenwich Village, or what longtime Village resident Barbara Ruether has called "the former Greenwich Village." Due to untrammeled greed and lust for power, the original, unique character of the Village has transformed into drugstore chains, Chase banks, fancy clothing stores, and pay-more-for-less mega box stores, which replace mom-and-pop shops. As for housing, we'd have many more obscenely unaffordable concrete-and-glass structures that lose themselves in the clouds if developers could have their way. Even most of the charming old structures that remain now demand colossal rents. We're even threatened with losing much of our green space, including parks, gardens, and playgrounds.
The synopsis for The Lost Village mentions rising rents for housing and business, with more than 1,000 small businesses lost in New York City per month. That is hard to comprehend.
The loss of St. Vincent's Hospital, mentioned in the film by George Capsis was, to me, a big factor, or at least a harbinger, in the change. All that rampant gentrification! You kept getting the feeling that your neighborhood wasn't yours, that it wasn't about you or for you. It was being seized and controlled by other people. In an online video I once saw, Bill Rudin, the developer who bought the St. Vincent's campus for $260 million—a vast sum to us but really pennies on the dollar considering what he could have paid—spoke cheerfully about how gratified he was to have "work[ed] with the community" on his tower project. But he fools no one. The community spoke against him over and over. We lost that one, but we're not out, and we won't be silent.
Then we have NYU, which is not the only culprit, but it is a big one. It is covered extensively in the film. Women are prostituting themselves to pay their tuition costs and students are hardly able to afford food or housing. Two students who had gone into prostitution to pay their tuition are interviewed anonymously. The $72,900 annual tuition is shocking, but we're told that stratospheric tuition increases affect other universities too.
One of the best parts of the movie is the series of clips from a promotional film featuring the former NYU President John Sexton. With his big grin, he tells you how wonderful it is for people to attend his prestigious university. Another short film about how nice it is for young women to be sugar babies was also featured. The absurdity of it all!
You also have the effect of NYU's plan on the community. I'm sure the original, projected completion date of 2031 is not realistic now. As time passes, I keep hoping that parts of the original plan will drop away as circumstances and financing change. (People are already feeling the loss of the Coles gym.) But I'm told that the beautiful community gardens and playgrounds are slated to be replaced with humongous NYU towers that will block out air and light. That beautiful Japanese garden between the rows of NYU housing is threatened, along with the Picasso sculpture on the green space among the residential towers just off West Houston Street. That's just some of what we face.
Mr. Paradiso makes clear that what is happening in the Village is related to what's going on elsewhere. The film presents commentary by a historian who compares the situation to ancient Greece and Rome. An economist points out that the reckless development with outrageous rents and prices is self-defeating because people with stagnant wages can't afford what's being produced. An NYU professor reports on what's going on with NYU generally. We see interviews with Village residents, including WestView's Publisher George Capsis and Nelly Godfrey, who was unable to keep her Christopher Street restaurant Lima's Taste. We also see Villager Nicky Perry and her husband, struggling to maintain her tiny restaurant Tea and Sympathy. Commercial rents are out of control, and we learn about the failure of a proposed bill to limit them.
The film covers a lot, and I could only address some of the issues, along with my own observations. Roger Paradiso worked very hard on a shoestring, and it is admirable. Do see the film when you can!