"A troupe of performers, especially a traveling troupe, that presents such entertainments, together with officials, other employees, and the company's performing animals, traveling wagons, tents, cages, and equipment".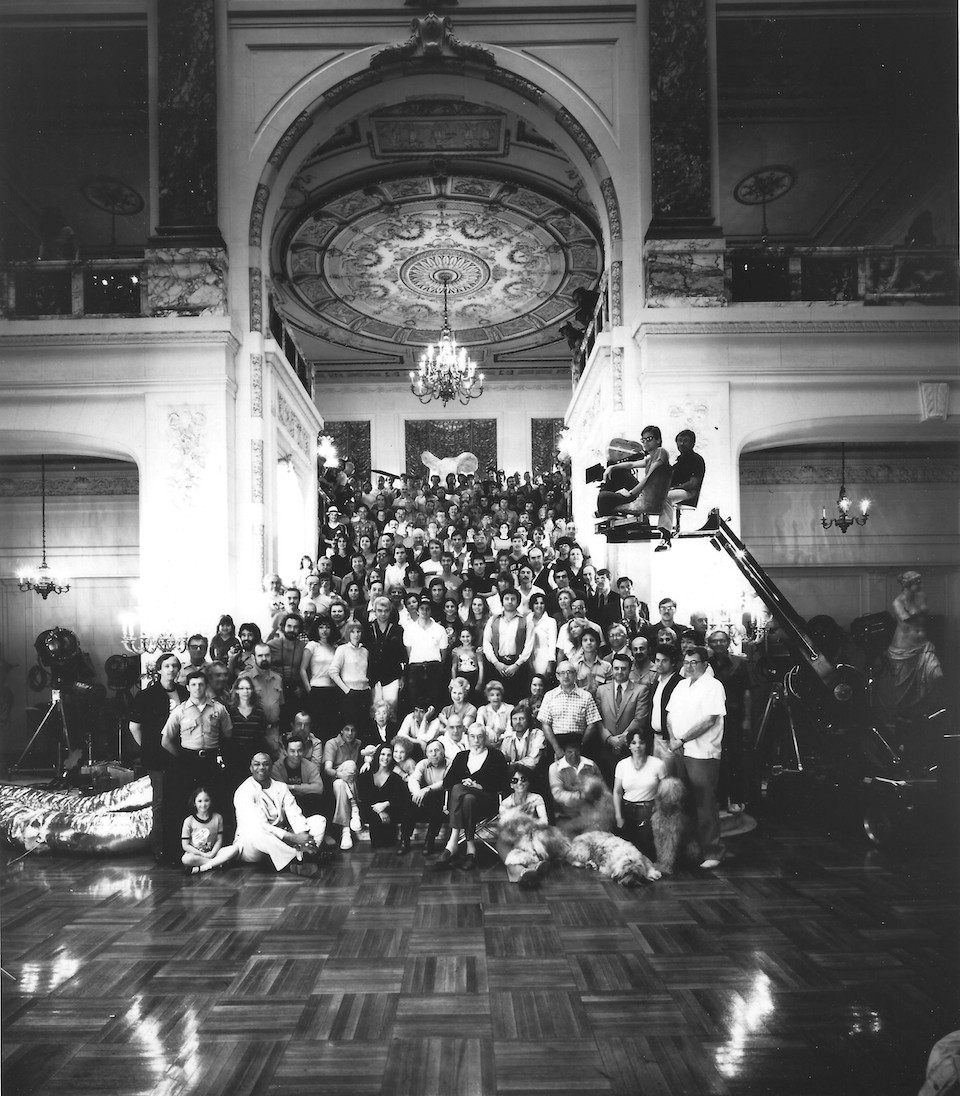 The entire cast and crew of ANNIE at Woodrow Wilson Hall, West Long Branch NJ. Missing were Dale and Roger who were scouting. Picture courtesy of Columbia Pictures.
Biography
Stardust Memories
1979
Directed by Woody Allen
Starring Charlotte Rampling, Marie-Christine Barrault, Jessica Harper, Woody Allen and Tony Roberts
Writers Guild of America, USA 1981 Nomination for Best Screenplay
My father had recently died, and it was time for me to grow up and earn money. I had a teaching job lined up, but I wasn't feeling good about leaving Manhattan. I knew I was getting close to being an independent Film Director, Writer. But I was broke in Manhattan. I didn't want to quit trying. So, I came up with the only decision I could see that would keep me involved in the "Circus". I would try to get a job, like some of my friends, on the studio movies because they paid the big bucks.
I had read that Woody Allen was doing a film in Ocean Grove, New Jersey. I knew all about Ocean Grove as I used to hang out in West Long Branch and Asbury Park down the Jersey Shore. And I lived down the "Shore" for many years.
Ocean Grove was settled as a religious Campground and you couldn't drive a car on Sundays or to drink any day. They were strict. Some friends and I had a beer in Asbury and went into Ocean Grove to hang out. A police officer pulled us over and gave us a warning. He smelled liquor on our breath. He told us we better head out of town before we got a ticket or arrested.
So, with that experience in mind, I called the Woody Allen office and spoke to Bob Greenhutt. I told him I was a good photographer and could help him with Locations in Ocean Grove as I was also a Jersey Shore guy like him. And I knew the quirks and sensitivities of Ocean Grove.
For some reason he told me to come over to his office on West 57th that hot August day. I met Bob and he couldn't be nicer. He introduced me, in his small office, to his assistant Michael Peyser and Lois Kramer, the Location Manager, for STARDUST MEMORIES. We all hit it off and the next thing I knew I was signing a deal memo for more money in a week than I made in theater for a month. Then Michael pulled out a hundred-dollar bill and said this was petty cash. Wow, that hundred-dollar bill was more money than the budget for my set at the IRT Theater a few months back. As I walked out of the office and down 57th Street I kept thinking that I was saved from teaching. I was going to work with the great Woody Allen.
They say luck is being in the right place at the right time. I was lucky. And I thank my mother and father for their encouragement. My father was a home movie filmmaker and he always let me use his super 8 camera and his small editing machine. From home movies to the Circus in one generation. It was a giant step up for a kid like me.
The Dogs of War
1979
Directed by John Irvin, Produced by Norman Jewsion starring Christopher Walken, Tom Berenger, JoBeth Williams
So now that I joined the circus, I faced the greatest fear courtesy of the greatest show on earth. I was unemployed. And I never thought I would work again. You see a "freelancer" is only guaranteed a day or a week of work in the circus. Depending on your performance and skills the days can lead to weeks and the weeks to months but most jobs in the circus are "seasonal work". They rarely go on for more than four to six months and sometimes far less. Fortunately, Lois Kramer who I just worked with on Stardust Memories called me and wanted me to work right away as her location manager on THE DOGS OF WAR. Lois saved me, and I am forever grateful. I was out of work for three or four weeks.
This film was produced by the great Norman Jewison. It was Christopher Walken's first starring role. Jack Cardiff, the legendary English cameraman, would be the DP. It was a great job. Lois was also UPM for her first time and did a great job. When my mother bought me a North Face jacket for Christmas it saved my life. We shot during one of the coldest winters in a long time.
Only When I Laugh
1980
Writer Neil Simon, Director Glen Jordan,
Producer Roger Rothstein and Neil Simon
Starring Marsha Mason, Kristy McNichol, James Coco, Joan Hackett, Kevin Bacon
Academy Awards, USA 1982
Golden Globes, USA 1982
Winner
Golden Globe
Best Actress in a Supporting Role – Motion Picture
Joan Hackett
Nominee
Golden Globe
Best Actress in a Supporting Role – Motion Picture
Kristy McNichol
Best Actor in a Supporting Role – Motion Picture
James Coco
Young Artist Awards 1982
Winner
Young Artist Award
Best Young Motion Picture Actress
Kristy McNichol
Nominee
Young Artist Award
Best Motion Picture – Family Enjoyment
After the cold winter, my other mentor in my early days, Roger Rothstein, called me to do the film version of Neil Simon's play THE GINGERBREAD LADY. The film was called ONLY WHEN I LAUGH and starred his wife Marsha Mason and Kristy McNichol. It was a classic New York location shoot with all the essential New York locations being shot here. The rest of the work was done on a soundstage in LA.
The shoot was smooth and a lot of fun. Roger and I, got along really well. I remember one day he was staring at me. I thought what did I do wrong? He called me over and said, "They did it to you too". I said, "What do you mean?" He said, "Roger, they called you Roger too." And that was it. We both started laughing and never talked about it again.
Annie
1980-81
Produced by Ray Stark, Directed by John Huston
Starring Albert Finney, Bernadette Peters, Carol Burnett, Anne Reinking, Tim Curry, and Aileen Quinn as Annie
Two Academy Award Nominations Best Art Direction-Set Decoration Dale Hennesey, Marvin March,
Best Music Score Ralph Burns
Three Golden Glove nominations for Best Actress Carol Burnett, Best Actress Ailen Quinn, New Star of the Year Aileen Quinn
Bafta Nomination for Best Original Song "Tomorrow" Charles Strouse and Martin Charnin
Roger Rothstein recommended me to Ray Stark, the legendary agent of Barbara Streisand and others and now a famous Hollywood Producer. Ray loved Roger Rothstein. And sure enough I was called to the Hotel Pierre for a meeting between Howard Pine; an executive with Rastar Films, and the great designer Dale Hennesey.
That was an odd couple as Dale was an artist and casual and Howard was a business guy in a suit. We got right down to it. I was to be the Location Manager for Annie, the most expensive Hollywood movie since Cleopatra. And I was making 500 bucks a week plus 100 for my car. I was to scout the Northeast with Dale and try to find the Warbuck's mansion. They had other scouts covering The West Coast and other exotic locations. I thought I'd make things easier for them.
I knew where The Daddy Warbuck's mansion was. It was at Monmouth College in West Long Branch, New Jersey. I went to school there for a couple of years before I transferred to Rutgers University. They looked at me like I was crazy. Sure kid, Howard would say, "It's not going to be that easy. We're going to check out all the famous Newport Mansions and Sam Simeon. New Jersey?", they laughed. What can I say at that point. Sure, let's go scout. They then asked me if I thought the Mansion existed in New York. I said at the turn of the century and into the thirties, but not today. "Show us" they said. So, we drove around the Vanderbilt Mansion and the Frick Estate and never did find it in modern day New York. We "found" it at Monmouth College in New Jersey six months after I mentioned it at our meeting. Woodrow Wilson Hall was built by the Parsons family. It was huge and designed like a miniature Versailles. It was perfect for Daddy Warbucks.
The best thing I did in my professional life was join the Director's Guild of America during the production of Annie. My fellow AD's Jerry Zeismer and Chris Soldo and legendary UPM Bill O'Sullivan were a big help in speaking up for me and getting me in the Guild. The Guild is a beacon of hope for all who join the circus. My salary increased over 100% and I got benefits like health insurance and residuals.
Dale also put my name on a bakery at Columbia Studio's backlot where Annie shot several scenes. It barely made it in the movie. If you blinked, you missed it.
I Ought To Be in Pictures
1981
Directed by Herbert Ross, Produced by Roger Rothstein and starring Walter Matthau, Anne-Margaret and Dinah Manoff
Another Neil Simon play turned into a movie. Roger Rothstein was the Producer and he called me in again. He had a short New York shoot of about two weeks. We had fun. But the fun days were coming to an end. More and more action movies. Less and less real stories.
The film did okay. Walter Matthau was brilliant. And so was Dinah Manoff. I even asked her to read a script of mine which she liked. But it never went anywhere. Welcome to Hollywood kid.
Lovesick
1982
Directed by Marshall Brickman starring Dudley Moore and Elizabeth McGovern featuring Alec Guinness, John Huston, Christine Baranski, Gene Saks, Renee Taylor, Alan King, Ron Silver, Wallace Shawn, David Strathairn, Larry Rivers
Lovesick was my first film with two legends of New York. One legend was Marshall Brickman who was a musician, a writer and a director.
Marshall is best known as the Academy Award winning screenwriter (with Woody Allen) of Annie Hall and Academy Award Nominated for Manhattan along with Woody Allen for best screenplay.
He also directed a movie called Simon starring Alan Arkin. Marshall was a great guy and very easy to work with. We had a good time making this movie. It was the way it was supposed to be.
The second legend of New York and the world was John Huston who had a cameo. We continued our friendship on set. I wish I had known Mr. Huston decades earlier. At this point he was battling COPD and needed oxygen. On Annie he would ask Dale and I to go out scouting with him, but after a few hours he would tire out.
Lovesick was a classic New York romantic comedy starring Dudley Moore and the young Elizabeth McGovern.
Rhinestone
1982
Starring Sylvester Stallone and Dolly Parton with Richard Farsworth
Directed by Bob Clark and others, Produced by Marvin Worth
Razzie Awards 2005
Nominee
Razzie Award
Worst 'Musical' of Our First 25 Years
A movie with Sylvestor Stallone and Dolly Parton can't miss, right?
Dolly was great, she signed a picture for a friend of mine who was paralyzed in a car accident.
Sly, he was interesting. He had his own private security. He told his security man, a nice guy from South Jersey Tony Munafo, that he was afraid he would need a lot of security for a shoot we had in Times Square. He needed around 24 men. When I told Jim Brubaker, another good guy in Production, that they needed 24 men Jim called his guy at the studio who agreed.
When Sly came out of his camper with his 24 guys and marched to the set not one New Yorker cared. Not one autograph. Not one onlooker. No one. Needless to say, the security brigade was cut back considerably.
Two of a Kind
1983
Produced by Roger Rothstein, Directed by John Herzfeld
Starring John Travolta and Olivia Newton-John with Charles Durning, Oliver Reed, Beatrice Straight, Scatman Crothers, Kathy Bates
A romantic comedy in New York with the stars of Grease, John Travolta and Olivia Newton-John.
Roger Rothstein and I had fun on this one and Roger gave me the chance to direct second unit. I remember we were shooting a horse and carriage scene in Central Park. We had one more shot before the sun came up and when I turned around there was no horse. Seems the horse bolted down Seventh Avenue with the 1st AD and trainer chasing him. Fortunately, they were faster than this old stud and they got him back before the sunrise, so we could get our "Magic Hour" shot. I learned to never do too many movies with animals, special effects and stunts. Of course, these were the movies they were making now in Hollywood.
One thing to remember, I never made a movie outside of New York. That was my thing.
I loved New York and never supported the run away from New York mentality. They used to say it was too expensive. Now that they get a tax break, they can't shoot enough in New York.
In the circus you rarely meet up again but there were a few of us who kept in touch.
9 ½ Weeks
1984
Directed by Adrian Lyne starring Kim Basinger and Mickey Rourke with Margaret Whitton, David Margulies, Christine Baranski, Karen Young
When I first met Adrian Lyne, I knew I had met a modern Tom Jones, the character from the novel by Henry Fielding. Adrian was a bad boy who loved to play. And Hollywood loved him. He was the beginning of the trend that saw British commercial director's take over the business.
The Hollywood circus is always into trends and that is their job. But trends don't always work out. Adrian did somehow someway. He had just directed Flashdance which was a huge hit. Looked like a commercial and a music video which was big in those days. Remember "I want my MTV." Well this film was made for that group who wanted their "MTV". It was so big that they trusted him with another movie with a slightly larger budget. Another of my mentor's, Bob Relyea, was the executive on this one. To say that we didn't have a lot of laughs along with some heartache would be to lie. It was challenging, but fun.
I liked Adrian and I think he liked me, but how do you deal with a guy that tells his DGA colleagues that he probably will never work with them again. That's like an opening line of his. Well he was true to his word. And it didn't really bother me to tell you the truth. But as shooting went on we all understood why. He was a wild man. And a bad boy in the "Tom Jones" tradition.
Wise Guys
1985
Directed by Brian De Palma starring Danny DeVito and Joe Piscopo and Harvey Keitel, Julie Bovasso, Patti LuPone, Frank Vincent, Lou Albano
The only film I ever left before it finished. Because of one man. Aaron Russo. He treated people with disrespect. The crew. The Office. Me. His first day in the office he came barging in with his huge dog. He wore a T-shirt. As he was walking in he said, "What a dump". That was my greeting.
MGM was great. Lin Parsons and his associate Wally were very supportive, but there was no saving this one. Sometimes you just have to move on. I did the best job I could do with the money that MGM wanted to spend on it. Their original number was around 10 million. I got it bumped up to 14 million, but they weren't going to go a penny over it.
So, when MGM greenlit the movie they offered me all sorts of guarantees and they spoke to Aaron, but there was no change really. He would call me in and say he wanted me to stay. I stayed on until a week or so before the shoot started. As for Aaron Russo, he ended up staying in his "dump" office for years. And the picture was made. For the budget.
Danny and Joe and the entire cast and crew were pro's. MGM said they would get me on their next picture in New York. I believed them.
The Manhattan Project
1985
Directed by Marshall Brickman starring John Lithgow and Christopher Collet, Cynthia Nixon, Jill Eichenberry, Robert Sean Leonard, John Mahoney
Nominations Academy of Science Fiction, Fantasy and Horror, USA winner of the President's Award Marshall Brickman
Nomination for Young Artist Award, Exceptional Performance by a young actress in supporting role Cynthia Nixon
When Marshall, and Production Designer Phil Rosenberg, heard that I left Wise Guys they called me in to Marshall's office. They wanted me to work on the picture as an Executive Producer. Well that was a nice rebound from Wise Guys. To work with nice people and professionals like Marshall and Phil was a dream. In the circus it is always good to work with people you know. It makes for a nicer experience and you know each other's strength and weaknesses.
Gladden Entertainment was David Begelman's company where I met Michael Nathanson and Ed Morey who would keep in touch.
I worked closely with Marshall and Phil on the locations, FX sequences and directed Second Unit. It was a great experience. I found an office for the movie right across from Lincoln Center. It was the penthouse of the Empire Hotel. We got about 5,000 sq. feet for I believe around 3,000.00 dollars. Phil and I kept it for many years until the hotel was sold and they wanted the space back. Lots of great movies used this office. Moonstruck, Beaches, Scrooged, The Manhattan Project. And a guy named Oliver Stone did his casting in New York there for Platoon.
This was the last time I ever worked with Marshall as he became more of a screenwriter and a writer of Broadway plays. One, Jersey Boys, did quite well. Good things happen to nice people in the circus once in a while.
Moonstruck
1986
Directed by Norman Jewison starring Cher and a great New York cast featuring Olympia Dukakis, Vincent Gardenia, Danny Aiello, Julie Bovasso, Anita Gillette, along with Nicolas Cage, John Mahoney, and Feodor Chaliapin Jr.
Academy Award Best Actress Cher,
Academy Award Best Supporting Actress Olympia Dukakis,
Academy Award Best Writing Screenplay Written Directly for the Screen John Patrick Shanley;
Three other Academy Award nominations Best Picture, Best Supporting Actor Vincent Gardenia, Best Director Norman Jewison:,
Golden Globes Winner Best Performance by an actress in a motion picture Cher, Best Actress in a Supporting role in a motion picture Olympia Dukakis.
Three other Golden Globe nominations Best Picture, Best Screenplay John Patrick Shanley, Best Actor Nicolas Cage:
Nominations BAFTA Best Actress Cher, Best Supporting Actress Olympia Dukakis, BAFTA Best Screenplay John Patrick Shanley, BAFTA Best Score Dick Hyman.
Well, MGM called me as they said they would and asked me to meet Patrick Palmer and Norman Jewison. I brought them over to my Office at the Empire Hotel and we talked. I sensed a little tension between these two who I had met on Dogs of War. One day Norman came in and talked to me about the film. He said that because the studio only wanted Cher he would have to fit her into the schedule.
That would mean seven weeks of Pre-Production as she finished another film and seven weeks to shoot the movie. MGM only wanted to spend around 11 million on the film including Cher's salary. Norman said he would do anything to make the movie and he needed my help. We shook hands and that bond lasts until this day. We did our jobs and made it happen. That's when a hand shake meant something.
Patrick and the first AD were talking while we were scouting a site that I had brought them to near the Brooklyn Bridge looking back at Manhattan. It was around 7 pm and the lights of downtown and midtown New York were spectacular. Norman loved it. Minutes later he came over with Patrick and the First AD. Norman said, "They want me to shoot this after midnight". I looked at everyone and said that didn't make sense.
We were here for the skyline and the lights start dropping after ten at night when things start shutting down. This location only makes sense if we come here first and shoot by 7 pm. Patrick stormed off and Norman said thanks. The scene with Feodor and the dogs went off in spectacular fashion. The special FX guys shot a full moon and placed it in the shot in post. And it became the poster for the movie.
Norman also put me in the poster for the opera in the movie. I was the conductor for "La Boheme".
Some execs at MGM did not understand the script. The movie became a huge hit.
Black Widow
1987
Directed by Bob Rafelson and Produced by Harold Schneider starring Debra Winger, Theresa Russell, Dennis Hopper, Terry O'Quinn, Diane Ladd, Lois Smith
Harold Schneider said he needed my help for a week on a film he was doing called Black Widow directed by his friend Bob Rafelson . I said sure if I'm free. A few months later he called me and said we are coming into New York. I said I was free and glad to help. It was July and the temperature was in the 90's for a week. I said what do you have to do. He said, "it's real simple. I'm shooting a half day in Washington DC tomorrow and then a half day in New York". He asked me how to do this traveling the company from filming in DC in the morning and being ready to shoot in New York that evening.
Simple I said, get a private jet and serve lunch on the flight from DC to New York. They landed having broken for lunch on the plane and we shot in New York that same evening. Piece of cake I said to Harold at wrap. Okay anything else Harold, my buddy? Oh yeah, he says, "it's winter and we'll need snow for the helicopter shot tomorrow". Great, snow in July and it's 90 plus degrees. No problem. Snow in New York when it's 95 degrees, I thought. "We got snow" I shouted as I turned to my crew who were ready to run away from me and these looney California guys. There will always be a little friction between New York and LA. After all, we started the film business back East in Fort Lee, New Jersey and Astoria Studio's in Queens.
So, the helicopter comes in and blows some of the snow blankets all over the place including into the East River. For Take 2, we throw the snow onto the blankets to hold them down. The tarmac was so hot that we could only create slush, but it worked. Helicopter comes in. She gets off and gets into the limo and drives off. Piece of cake, right Harold?
The next night, we got to create snow along 5th Avenue and on the awning of an apartment building. That was easier with no broiling sun. The next day they leave New York to go back to LA. Harold gives me a hug and asks if I could finish up the wrap in two days. No problem I say, as the crew nods in unison.
Bob Rafelson and Harold were nice guys and in the circus that's a hard thing to find.
Scrooged
1987
Directed by Richard Donner and starring Bill Murray and Karen Allen, John Forsythe, John Glover, Bob Goldthwait, David Johansen, Carol Kane, Robert Mitchum, Alfre Woodard
Nomination Academy Awards Best Makeup Thomas R. Burman, Barry Dreiband-Burman,
Nomination Academy of Science Fiction, Comic Fantasy and Horror Films Best Fantasy film, Best Actor Bill Murray and Best Special FX
What better movie to work on? Bill Murray in Scrooged with Dick Donner directing. And we were using the Empire Hotel office and shooting in midtown, downtown and in Queens during the Holiday season. What could go wrong?
Well for some reason Bill and Dick didn't get along too well. Come on people. Can't we get along?
Roger Rothstein was the head of Production for Fox and Ray Hartwick from Annie, and a great guy, was the UPM. Ray said Roger didn't want to pay Roger (me) more than scale I called Roger up and said how about a little bit more. He thought about it until I said. "They called you Roger too."
He laughed. It was one of the last times I would talk to him. He had cancer and was in bad shape. I never saw Roger again. We had a eulogy in New York with Bob Greenhutt and a bunch of Roger's friends like Lois Kramer, and Stanley Ackerman from the DGA among many others. I told the Roger story again. There was some laughter. But it was very sad. A great person. And now one of my mentors would no longer be around.
Scrooged became a cult classic. And despite the death of Roger Rothstein, we all moved on to the next ring in the circus.
Beaches
1988
Directed by Gary Marshall starring Bette Midler and Barbara Hershey with John Heard, Spalding Gray, Lainie Kazan, Mayim Bialik, Marcie Leeds
Winner Young Artist Award Best Young Actress in Motion Picture Comedy Mayim Bialik
Nomination Academy Awards Best Art Direction-Set Decoration Albert Brenner, Garritt Lewis;
Nomination American Comedy Awards Funniest Actress in a Motion Picture Bette Midler
Nomination for Brit Awards Best Soundtrack
Nomination Kid's Choice Awards Favorite Movie Actress Bette Midler
Nomination Young Artist Award Best Family Motion Picture
Nomination Young Artist Award Best Young Actress in a Motion Picture Drama Marcie Leeds
A special film with a great song by Bette called 'Wind Beneath My Wings" which wins Best Song of the Year at the Grammy Awards. We shot three weeks in New York during the worst heat wave I can remember. A film directed by good guy Gary Marshall and starring Bette Midler and Barbara Hersey. It was a pretty good film.
Funny About Love
1989
Directed by Leonard Nimoy and starring Gene Wilder and Christine Lahti. With Mary Stuart Masterson, Robert Prosky, Anne Jackson, David Margulies
It was an old-fashioned New York romantic comedy. Romcom they now call it. About a couple who couldn't have a baby but went through in vitro fertilization. Bob Relyea now at Paramount told me to take care of Leonard aka Mr. Spock. He was important to Paramount because of the Star Wars movies and TV shows. Leonard was a nice guy. His Producers were Jon Avnet and Jordan Kerner who seemed to want to micro manage Leonard, but it all went well.
We had re-shoots in July and Leonard came in with me being his AD and UPM on this small reshoot at the South Street seaport. A quiet scene at an outdoor café at the seaport in lower Manhattan….or so we thought. As we started shooting we heard a loud explosion and fire engines and police cars racing up South Street a few hundred feet from our location. The Con Edison transformer blew. We had to shoot since this was the only day the Studio could get the actors. Leonard was depressed at the end of the day and asked me to see what I could do with the sound. The next day I went to the lab at Sound One in the Brill Building. Jay Rubin and the guys there did an amazing job taking out all the bad stuff. Leonard was amazed when I called him, and he came over to listen. Sound One did a great job cleaning it up. Leonard was happy.
Crazy People
1989
Directed by Tony Bill. Dudley Moore, Daryl Hannah, Paul Reiser, J.T. Walsh
Dudley Moore again with Tony Bill directing. Dudley had slowed down a bit. He was still a total pro. But after years in the circus, his boyish humor had left.
Tony Bill, I admired. We talked over the years, but ever connected on a movie. He was a maverick in Hollywood. I liked that. I went to visit him once in Venice where he had an office. As I was pulling into the tiny street near his office I had police and swat running at me screaming "Get the "f" out of here". I did. It was a gang bust in Venice. Welcome to LA.
Tom Barrad was one of the nicest people I ever met, and he was one of the Producers. Never heard much from him again in the Circus. I wonder what happened to him?
Years later, when the work dried up, Dudley Moore moved away from the circus to Plainfield, New Jersey and stayed with a caretaker while he battled a fatal brain disease called PSP. He was buried in a cemetery in Scotch Plains, New Jersey far away from his home country England and adopted home in Hollywood.
Soapdish
1990
Directed by Michael Hoffman
Starring Sally Field, Kevin Kline, Elisabeth Shue, Cathy Moriarty, Teri Hatcher, Robert Downey Jr., Whoopi Goldberg
What a cast and a great idea.
Another New York and LaLa land split. I was in the Paramount building again after losing the Empire Hotel space due to gentrification. The whole Upper West Side was being gentrified. When I first moved to West 81st Street in 1980, I thought I had made a mistake. Across the street was a drug den. Homeless people were camping out in the Museum of Natural History Park and in Central Park. I was told I was on the frontier of civilization and chaos. They moved a police precinct into West 82nd to bring law to the West side frontier. It worked. Rents were soaring along with everything else. At great cost to the working class and the young people coming to Manhattan with dreams of making it in the greatest city in the world. You can still make it, but you can't start out living in Manhattan. It is way too expensive.
One of the Producers of Soapdish had been an old New Yorker who produced Shaft, the original film. He asked me how much money he should bring to New York. I was confused by the question. I asked him to explain. He said how much we need to bring to spread around the precinct and the city to shoot. I had heard of bagmen before, but it was connected to the old way of shooting in New York long gone when I got in the business
Bill O'Sullivan, a terrific guy, was brought in as a UPM to help Howard Pine on Annie. He would tell me stories of those days. The Bagmen Producers were the Kings of New York. They spread the money around and they always wore the best business suits you could buy. In fact, Bill, as part of his morning ritual, would always get a manicure and a shoe shine every day before he came to the office. And a haircut once a week. I am glad Mayor Lindsay broke that up "bagman thing" with the Creation of The Mayor's Office of Film and Television in the mid 1960's.
On Soapdish, it was raining one day, and we had to get this scene in. The Director came over to me and said what do we do. I said play the scene in the rain and asked the Prop Man for two umbrellas. It worked. A great scene. After Soapdish my career and life started moving forward in new directions.
I met my wife Antoinette during this Paramount period with my mentor Bob Relyea. At the end of the Soapdish shoot, we got married at Blessed Sacrament Church on West 71st Street. The reception was on a boat going around Manhattan island on a perfect, early October night.
A Bronx Tale
1992
Directed by Robert De Niro starring himself, Chazz Palminteri, Joe Pesce, Taral Hicks and Lillo Brancato
I was in LA trying to get some projects done in the studio system. In hindsight a big mistake. My friend Harold Schneider, the Producer, said he would help me. We took a few meetings, but it was clear the studios didn't want to do business with us. We did not fit the mold.
You see in the "Mogul" days they would get directors and producers from the studio system. So, you could be a writer or Assistant Director and if you played the game they would give you a shot on a studio short. Some famous directors and producers came up this way. It was the only way basically. Other than Broadway directors being given a shot. Of course, the other way was to raise the money yourself and get a film made and that can still be done today, but it can be a tough deal and you still had to go through the studios to distribute the film. Would they treat your film the same as there's? Probably not.
So, Harold and I tried, but we belonged in another time like the sixties when Harold's brother got Easy Rider going with unknown actors. Ironically his Father who was President of Columbia Pictures greenlit Easy Rider, the movie. But those days were over basically. Today, if you shot a hot music video or sexy commercial, you were the guy they wanted. Better yet if you shot a short and it was bloody and had action you could be the guy. Neither Harold or I fit that mold.
I had a project Looping where the lead actor talked himself out of making the film.
I had another project with my friend Steve Schottenfeld called THE MARRIAGE OF FIGARO AND MOSCOWITZ. Steve had just worked with Patrick Bergin a terrific actor from London who was just in a film with Julia Roberts called SLEEPING WITH THE ENEMY. He loved the script. So, we had our lead. Sergei Moscowitz was a recent Russian defector to the USA. Remember this was around the fall of the Soviet Union and many Russians were emigrating to Brighton Beach in Brooklyn. I created Sergei as a Russian performance artist who railed about the ills of the world. He was a rock 'n roller too. His family disapproves of his occupation, especially his father who was a member of the Russian mob. Then Sergei meets Victoria Figaro, whose family is in the other Mob. Victoria wants to break free of that mold and she thinks Sergei is the perfect catch.
Anyway, it was a great role and we got a well-known New York actress to agree to perform with Patrick. We had set up a meeting with Miramax where Patrick was finishing up a movie. An hour before we were to meet on a project they were interested in, they cancelled the meeting. Patrick called up his agent and found out that the two British darling producers for Miramax and other indies had swooped in and stolen our actress for another Miramax movie. Then the movie Patrick was in opened poorly and his stock fell in Hollywood. Show me the money Hollywood. We pitched the script around and never could put it together. What a shame. Patrick was such a great guy and very talented. He eventually went back to live in London and did theater and television and many movies. One of those projects that could have been wasn't. Welcome to the circus.
When Antoinette and I moved into our apartment on Elm Street in Beverly Hills, the flats, not the Beverly Hills where the mansions are. We did not have that kind of money and when we found out that Antoinette was pregnant there was an urgency for me to work. The thought was creeping into my head. Will I ever work again? I needed a job. Enter Bob Relyea (Mentor and a saint) and Ed Morey (Nice guy and Executive with David Begelman's company which made THE MANHATTAN PROJECT).
Ed was now working for AIG, one of the biggest Insurance Companies in the World. AIG was in the movie business as a completion bond company. Completion bonds are needed for indie films so that the borrowers, banks and small companies, can insure their film. It's an interesting Game which I won't bore you with here. Put it this way, unless you put up the money yourself, you needed a completion bond to get funding and distribution.
Ed told me they were looking for an executive to help them with indie films especially those they wanted to shoot in New York. I was considered someone who would be an "expert" on both subjects. Well I needed a job, so I said yes. The first project they gave me was called A Bronx Tale already shooting in New York. Seems the first bond rep wanted to leave the show which was going over budget. I took the gig.
I got on a plane to New York and met John Kilick, a very nice person who was Line Producing this film. I had known John a bit and he was happy to see me become the new bad guy. John filled me in on the film's issues. I also met the first bond rep, a very nice guy who looked like a prisoner of war about to be released. So now I was in the hot seat because the financiers were freaking out and the Production Company was freaking out. And, of course, the bond company was freaking out.
I was acquainted with this feeling as almost every show has its own "freaking out" moments. After a few weeks of observing I talked to everyone on the show except "Bob" who knew what I was going to say and didn't want to hear it. Okay. Did he know what I was going to say? Me? Not really. But what can I do?
I was always a friend of the directors and producers on all my films. And I always got along with the studios and financiers. Well what can you do in this situation? Since most of the crew were people I knew and having been in these situations before I came up with a plan. When I presented it to the Production team they didn't like it. In fact, Bob finally talked to me and told me he didn't like it. I told him he would thank me for this plan in the future. He gave me a look and walked away. When I presented it to Ed and the AIG folks they didn't like it either. I told them it must be a good plan since nobody likes it. They didn't think that was so funny. I told everyone to sleep on it over the weekend.
What was the plan? Since Christmas, the Holidays, were just a few weeks away I thought we should take a month off. Yes, a month. Because there was no way we were going to finish by Christmas or New Year's. If we screwed up Christmas break by working through it and not finishing the film, the crew would revolt. You don't mess with Christmas break in New York. The deal would be that over that break Bob would edit and with his team design a schedule to finish all filming in ten working days. In return, the financiers got a realistic schedule and costs and the filmmakers got a reprieve from the pressure and a realistic plan to finish the film. It worked. When we came back from the Holidays a big meeting was set up at the Tribeca offices owned by Bob. All parties were there, and a deal was signed. Bob looked great and rested and thanked me. We became friends. The Bond company thanked me. We became friends. The film was finished and had great reviews. Everyone was happy. A rare story in Hollywood.
For my reward I flew back to LA with the family and Ed called me into the office. He handed me a script and said see if you can make sense of this. We can't. It was called Pulp Fiction.
Pulp Fiction
1993
Directed by Quentin Tarantino starring John Travolta, Harvey Keitel, Uma Thurmond and many others.
I met Quentin Tarantino and Lawrence Bender (the creative team) and Richard Gladstein from Miramax who were interested in distributing the movie. They desperately wanted to get this film made. I said I would help them secure the completion bond. I met with Ed and his team and pitched the film. I said I like it. They said let's close the deal with AIG.
To do that we needed to meet with the Board of the Bond company. These were men in suits who were serious about their money. So of course, Quentin shows up in torn jeans and a t shirt looking like some stoner from Venice. But things were going okay until one of the board asked about violence in the script. I said that it was no more violent than Godfather and many others. Another board member asked Quentin about the scene in the script that called for a deadly murder. We called it the disemboweling scene. How would he stage it? Within a second Quentin was up on his feet and meticulously laying out the bloody scene. He stopped waiting for applause and there was silence. I thanked everyone and told Quentin and Bender thanks for coming and I walked them out. Quentin was convinced that he won them over. I said I would call them later and let them know if they were backing the movie.
I walked back in to the room and one of the board members stood up and said, "There is no way we are doing that movie." And they walked out. Leaving me and Ed Morey. I asked Ed if there was any chance if we cleaned up that scene. He said no. I was out of a job.
Pulp Fiction went on to make millions at the box office. Quentin became a popular Hollywood director.
Bullet
1994
Directed by Julien Temple starring Mickey Rourke, Ted Levine, Tupac Shakur, Adrien Brody, Donnie Wahlberg, Suzanne Shepherd and Jerry Grayson.
I liked Mickey and I think he felt comfortable with me around the set. It was ten years since 9 ½ Weeks. He was a young star then ready to join the world of acting greats. I wanted him to make it. He wrote a great script with Bruce Rubenstein.
But like many things in the fast-moving circus it never took off. Something was missing. There was a young Canadian Actress who was supposed to play Mickey's ( aka Bullet Stein's) love interest. Mickey told me he didn't like the scenes with her. He was going to cut the scenes. I said Mickey, besides your mother she's the only women in the cast of junkies and hookers that people cared about. Sadly, those scenes never made the movie.
I got along well with Tupac. I was sort of assigned to watch over him. He was no problem. But like too many young guys who were moving up too fast he was a bit overwhelmed. Sort of like Mickey was ten years earlier. The circus demands too much from young people and some of them don't make it.
Bullet never made it to the theaters and was sold to DVD and cable. It was a tax deal made by Australian investors. They took the money which barely covered their investment and ran. This was the money part of the business I didn't like. If it was a feature release, Tupac would have written some songs which could have saved the movie. Sadly, shortly after the release Tupac was shot and killed.
Shaft
1997
In development Director John Singleton, Producer Paul Hall, Executive Producer Roger Paradiso
Bob Relyea called me and said he would like me to meet John Singleton and his Producer, Paul. I was in my Greenwich Street Office in Tribeca. We met and got along. John was determined to make Shaft with a young unknown star and keep the spirit of the first one in place but with a 1990's feeling. Sounded good to me. John, Paul and I had a great time in New York. I told Bob this looked like a great movie for MGM.
We made plans to announce the film in the trades because we were holding auditions at the Apollo to look for the new Shaft. Thousands attended the audition, just like the original film. John wanted to discover his" Richard Roundtree" the original Shaft actor. I flew to LA to begin the process of convincing the studio to make the movie with Bob's expert guidance. Bob was a great filmmaker and he never lost that part of him. He made many films including Bullet with his then partner Steve McQueen. Now he was navigating us through the new corporate court of filmmaking in the ruthless 1990's.
The budget was now around 33 million. I told John that MGM had no appetite to raise the budget past this figure. Unfortunately, John got caught up in the "money" thing. Whether he really believed that the studio should respect him more and give him something North of 33 million or he really needed the money I will never know. John drew a line in the sand. Despite me telling him that the studio would leave him alone and let him cast and shoot the film as he wanted, John ignored my advice to take the money and he ran away from MGM. I thought back to Norman on Moonstruck. If he had done the same thing, I doubt Moonstruck would have ever gotten made into a film. You step out of the ring in the circus and the circus passes you by.
John and Paul and I broke down the prep office. John said his agent would set thing up somewhere else. Months later I got a call from Scott Rudin saying he was taking over the project and doing it under Columbia. John and Paul were still together, and Mr. Rudin assured me that I would be on as an Executive Producer. He then asked if I could make the budget 50 million and suggested a few areas where he wanted to enhance the budget. I sent him a 50-million-dollar budget with great reluctance. The question in my mind was "Do I trust Scott Rudin"? He could not have been nicer or more convincing that he would call me when he knew the start date. I immediately called Paul and he confirmed everything that Scott said.
A month or so later, I got a call that they were starting production without me. What a surprise that someone would lie in the circus biz. Paul and I would talk about the troubled production which seemed to be going disastrously for John. He and John wished that I was on with them. The calls stopped when Paul was fired. Now John was not making the movie he wanted to make without any of his support team. What a shame.
The movie came out with Samuel Jackson as Shaft and did not do well.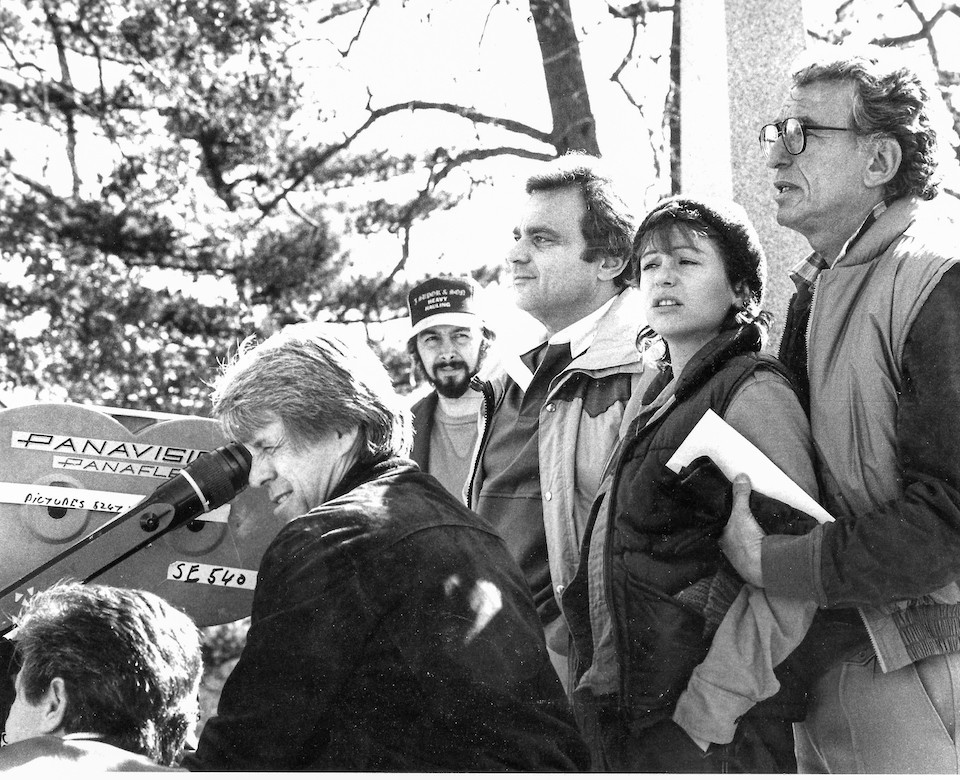 "I Ought To Be In Pictures" from left to right Jimmy Hovey camera assistant, Davey Walsh DP, me, Roger Rothstein, Dinah Man off and Director Herb Ross. Courtesy of 20th Century Fox.