The Thomas Crown Affair
The Thomas Crown Affair
1998
Directed by John McTiernan starring Rene Russo and Pierce Brosnan with special appearance by Faye Dunaway and Ben Gazzara
WATCH Trailer and PURCHASE this Film:
MGM Studios

Blockbuster Entertainment Awards 2000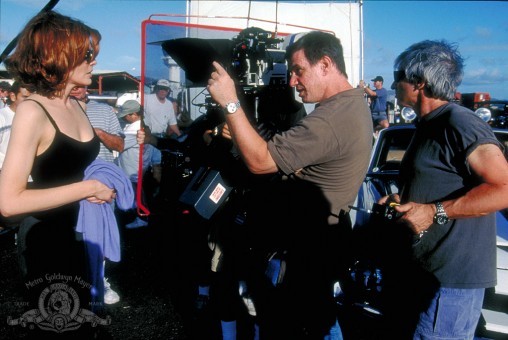 Winner
Blockbuster Entertainment Award
Favorite Actor – Drama/Romance
Pierce Brosnan
Favorite Supporting Actor – Drama/Romance
Denis Leary
Nominee
Blockbuster Entertainment Award
Favorite Actress – Drama/Romance
Rene Russo
Hollywood Makeup Artist and Hair Stylist Guild Awards 2000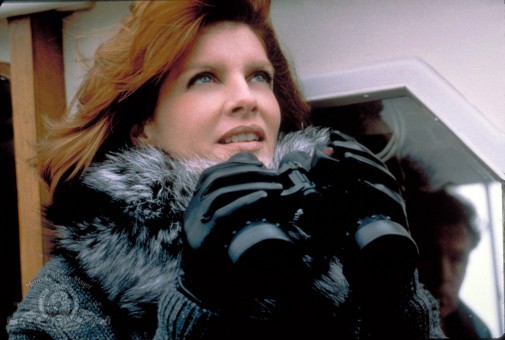 Winner
Hollywood Makeup Artist and Hair Stylist Guild Award
Best Contemporary Hair Styling – Feature
Enzo Angileri
Satellite Awards 2000
Nominee
Golden Satellite Award
Best Original Score
Bill Conti
Reviews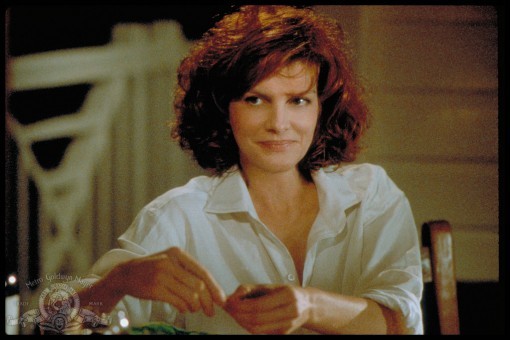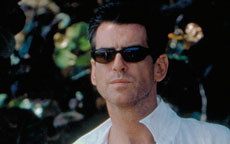 First off, I loved Steve McQueen as Thomas Crown but never could warm to Faye Dunaway as his nemesis-slash-love-interest. Totally wrong for the part, and don't get me started on her clothes! Not to mention the ending seemed a bit fuzzy.
So a HUGE thanks to the movie gods for getting it *completely* right the second time around! Pierce Brosnan and Rene Russo have the chemistry that McQueen and Dunaway never did, hard ad they tried to fake it. The original plot has been changed from breaking into a bank vault to swiping a priceless painting from a prestigious museum with a multitude of security measures in place. How Crown does it is so slick that I had to rewatch the "tell" several times to catch all the steps he took to carry it off. Ms. Russo's clothes are befitting of an extremely well-paid, world traveling insurance fraud investigator, rather than Ms. Dunaway's that screamed "K-Mart mark-down rack". The ending was perfect, no loose ends as in the original. But be forewarned that this version of the theme song "Windmills" might keep replaying in your head for several days. Perfect!
 "remakes" that really work. The writers took the essence of the original with Steve McQueen and made it their own. Fun fact: The dress she wears in the "black and white" ball was handed to her in a large envelope… She said, "you've got to be kidding!" Watch it and you'll see what I mean.
One of the most underrated of films. Excellent chemistry between Brosnan and Russo. Well paced, well written, well acted, well directed, visually beautiful and sexy. The movie has attitude. The cast is superb.
For some the original TC Affair is regarded as superior. I'm old enough to know the original as a first run. Critics loved it because the era was stuffed with insufferable cheesy, hokey amateurish crap. By comparison with others of its time the original may have been a standout, but the original is an overrated film. Watch the new Thomas Crown with a significant other. You'll thank me.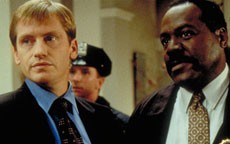 The Thomas Crown Affair stands as one of those cinematic moments where the re-make truly builds on the cultural foundation of the original film so much so that the newer film — starring rene russo and pierce brosnan — crystalizes the original intent far better than the film on which its based. while the great steve mcqueen and faye dunaway could have done no better, the raw sexuality of the second film matched with the even more over-the-top antics of the affluent make the second film soar. the first features a bank robbery, the second an art heist — you almost have to have money to even understand the crime in the second film. the first film introduces faye in a scandalous mini-dress, the second throws rene onto the scene in tailored perfection, legs for days, and a fur.
while the plots do diverge in many ways, it's interesting to see what society would allow of a woman in the late sixties and how much further that got pushed forward by the late nineties. if only the studios saw the wisdom in creating these "two packs" so audiences could decide for themselves. a treat for fans of the old and the new.
If you don't know…what's the point of telling you. Just watch it. You can blow dry your cat later. Oh, and this is a date movie, so lock the cat out of the room…they're just going to stair at you while you're….enjoying the movie.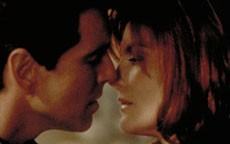 I loved Pierce Brosnan and Renee Russo together in this movie. They had great chemistry.
This film was well written with some twists and turns plus a little humor thrown in. Denis Leary gave a good performance in a supporting role.
One of the things that I enjoyed most about this movie was the soundtrack. It was fabulous. It had a combination of Caribbean music, blues, jazz and Sting doing a fabulous new take on the song "Windmills of your Mind". I have to say Sting nails the singles that he does on the soundtracks. The soundtrack was so good that I bought some of the mp3's from it.
I highly recommend this film. It's one of the ones that I can watch over and over and still enjoy each time I see it.
Excellent condition, one of my favorite movies. I really didn't care for the original because the storyline wasn't anything new. But they certainly upped it when they did this remake. Renee and Pierce were the perfect pick. If you are an art aficionado, you have to watch this.
The above succinctly could summarize the slick cat and mouse game that ensues between Catherine Banning and Thomas Crown in a stylishly, visually stunning remake of <i>The Thomas Crown Affair</i>. For those looking for a couple hours of pure escapism and enjoyment for adults over 30, this is it.
As has already been said in many reviews, Pierce Brosnan assumes the role Steve McQueen made famous in 1968. It is quickly established that Crown is wealthy, handsome, powerful…and bored. So, with his sharp intellect, he sets about stealing a priceless painting — just so he can feel the rush. Pierce Brosnan plays Crown as very dashing and low key…and it works here, especially because of the game. For him to show too much would be to tip his hand, so Crown keeps his pursuer, Catherine, on her toes as she both tries to pin the crime on him — and avoid falling under a spell that she finds appealing in spite of herself which, in the end, makes it all the more fascinating to see her try to triphim up at various turns. As many others have noted, it is less cat and mouse than smart and smarter cat, an
d
it is fascinating to watch them tangle — physically, intellectually, and emotionally — as the stakes seem to intensify in terms of job vs. romance.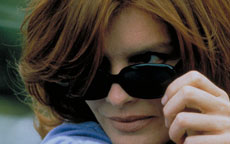 Rene Russo is wonderful as Catherine Banning. While Faye Dunaway's Vicky Anderson was considered strong for her time in the 1968 version, she still seemed too "mushy" in the end, too "heart on her sleeve". Catherine in the 1999 version, though, picked up where Vicky left off and yes, heresy to purists, I'm sure, improved on Vicky's strengths and toned down the other stuff. Catherine is strong, worldly, fiesty, and has a take no prisoners attitude that is occasionally (and subtley) allowed to be offset by vulnerability and softness. Overall, however, Catherine is, as Faye Dunaway's [Vicky in 1968's "TCA"] therapist character notes
in the film, a mirror image of Thomas. And this allows for the complication of Catherine being drawn into Thomas, first as a suspect but ultimately as someone she
is fascinated by and could all too easily love. I will not give away the ending…but I never knew the use of a simple bowler hat could be so clever, and use a painting with one as a nice inside joke. John McTiernan was a man who knew how to use cinematography to his film's advantage, and it shows. It is colorful, sharp, and slick…the perfect counterpart to the leads.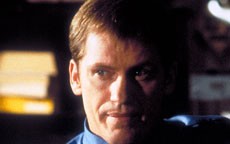 Still, before I end this, I must give major props to Denis Leary. Before viewing this, all I knew him as was an acidic, tart comic with an edge. But as Detective Michael McCann, he goes toe to toe with Russo and succeeds brilliantly. McCann is also a jaded man, a New York City cop, but he also has a sense of intelligence just as the leads do, and he is genuinely likeable and downright droll. You can't help but root for him in spite of his target…and the fact that he seems to also have a tiny crush on Catherine makes this game even more "twisty", and the end result is somewhat bittersweet.

Thankfully, this movie's romance is with two adults of the same generation and not some 40ish-year-old man going after a 20-something babe in tight clothes. The fact that it is sexy, sizzling, and even tender proves that chemistry does not have to die once your 30s are through! Russo and Brosnan sparkled!
I highly recommend buying the DVD. This is a film you'll want to view more than once.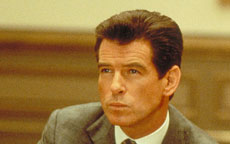 Pierce Brosnan plays Thomas Crown, a billionaire executive who decides to have a little fun by stealing a priceless Monet from his own museum, basically just to see if he can get away with it. Enter Renee Russo's character, Catherine Banning, a high-class bounty hunter hired by the company that insures the painting who is intent on proving that Brosnan is guilty. Despite her professional obligations, she cannot help but fall for Crown's charm, and the two enjoy a fabulous romance while still trying to outmatch each other.
Brosnan and Russo have incredible chemistry. They compliment each other perfectly on screen and make the most out of every scene, both the silly ones and the serious ones. Denis Leary has a great supporting role as the detective working on the Crown heist, and his scenes with Russo are excellent as well.
The plot is very enjoyable, and there are a lot of twists and turns along the way that the audience doesn't see coming. Crown's final "prank" at the end of the film is absolutely priceless, as is his final scene with Russo. This is one instance where a movie remake is ten times better than the original. I'm glad that there are plans to make a sequel.
Story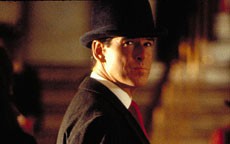 Norman Jewison asked why are you doing a remake of the original to a studio executive.   I don't know if he ever got an answer.
Bob Relyea set up a lunch with John McTiernan who was supposed to be a tough, maverick director in the mold of John Ford.   His credits were amazing.    It was thought he might try to intimidate me.   Ok, but it won't work. I asked myself if I were directing this film what would I want to know?   Can I shoot an art heist in the Metropolitan Museum?
That's easy.
So, I sat down for lunch between John and his assistant a former Navy seal.  John asked the question.   I could see his assistant stiffen.   All eyes were on me.   I said No.   They were snobs and we would never be allowed to shoot in their museum.   They want to pretend there are no heists or forgeries.   I went back to my food as there was silence and then John let out a big laugh.   He said something like: "I like that.   You don't bullshit around".   We then went on to have an enjoyable lunch.   We did end up shooting at the Met, but you will have to read the book to find out how we did it. And we didn't need their permission thanks to a plan that my good friend and future partner Mike Tadross and I dreamed up.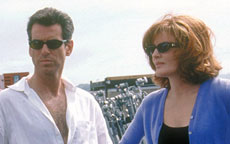 On this film Mike and I started our partnership on Yonkers Stage where we built over twenty sets for the film including the Impressionist Wing of the Met and Thomas Crown's New York townhouse interior.   I still think the stage is the most successful stage outside of New York City in the history of New York State.   We would still be going strong, but the Mayor kicked us out to get a Fedex plant in there.   That's sort of the direction the country is going in, isn't it? Kicking out the mom and pop shops for businesses that could pay higher rents.  Yonkers's Stage was a mom and pop operation and it worked for over 17 years.
This was an enjoyable film.   We did have our adventures in Martinique which was a challenge due to their numerous dock and airport strikes holding up our gear or forcing us to deliver our equipment in other ways.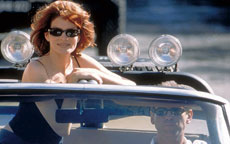 And kudos to John and Pierce for casting an age appropriate actress, Rene Russo, for the Faye Dunaway role.   Rene and Pierce were fun and terrific and the public knew it was an attempt to make it real.   The film did great business and continues to be seen.   It also makes people curious to see the original by Norman Jewison starring Faye Dunaway and Steve McQueen.
We shot mostly in New York and came in around 50 million which was a low price for such a fun movie.
Loved the Bill Conti music and the great song by Nina Simone.